Just bought myself a new cookbook, and I am excited to use it!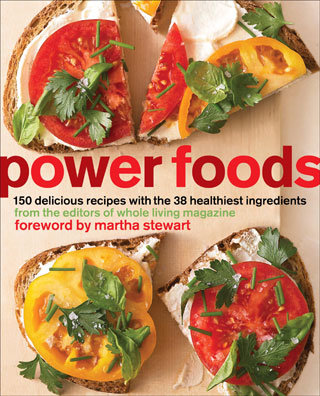 It's called
Power Foods
:
150 delicious recipes with the 38 healthiest ingredients from the editors of whole living magazine forward by Martha Stewart.
The book contains 150 delicious recipes based on 38 healthy ingredients (vegetables, fruits grains/legumes, nuts/seeds, eggs yogurt and fish) Each recipe also contains the nutritional information of each dish.
I especially love how there are lots of food pictures, it makes the book more aesthetically pleasing. (just kidding, well not really) I love when cookbooks provide images of the final product of each recipe. It helps you visualize what your dishes should look like.
There's so much junk out there, because people just care about mass producing food (Yes, I've seen Food Inc.) People fail to acknowledge that they actually need to take care of their health and well being (as well as the well being of their loved ones).
I'm not going to lie, but I do I junk foods too! however I am going to do my best to add some healthy nutritious food to my diet.
I look forward to creating healthier meals. So stay tuned! Will post pictures of power foods!
A great documentary, although slightly exaggerated. Gives insight into how food industry has changed over time, and how companies mass produce foods for various reasons. I guess this show is slightly one-sided, but you should just watch and form your own opinions!
We need to know what we are eating, and how our food is produced and prepared. What we eat is matters!